UNAIR NEWS – To develop University Tri Dharma, Universitas Airlangga (UNAIR) cooperates with The Islamic Research Research and Training (IRTI) Islamic Development Bank (IDB). The cooperation implemented were in forms of workshops, researches and infrastructure development for UNAIR civitas academica.
It was stated by UNAIR Rector Prof. Dr. Mohammad Nasih, SE., M.T., Ak, CMA., after signing a Memorandum of Understanding/MoU with IRTI IDB in Jakarta, on Thursday May 19. In the signing, UNAIR was represented by UNAIR Rector, while IRTI IDB was represented by Prof. Datuk  Dr. Mohd Azmi Omar as the Director General IRTI IDB.
"With IRTI, later UNAIR will hold thematic workshop related to sharia cooperative or Islamic cooperative. There will be book donations too," said Prof. Nasih, to UNAIR NEWS on Friday,  May 20.
Regarding the book donations, UNAIR Rector said that if someone or an institute in UNAIR writes a book related to Islamic aspect, then IRTI IDB will reward some fund for research. The reward reaches Rp 250 million. In addition, IRTI IDB also provide scholarships and other programs for UNAIR.
According to Prof. Nasih, in the future, UNAIR researchers will conduct some researches related to micro financing. "Currently, IDB is also focusing on micro financing, for small businesses (UKM) so UNAIR has great potentials there and UNAIR will do some things. So does for scientific international conference, " said the professor on Accounting FEB UNAIR.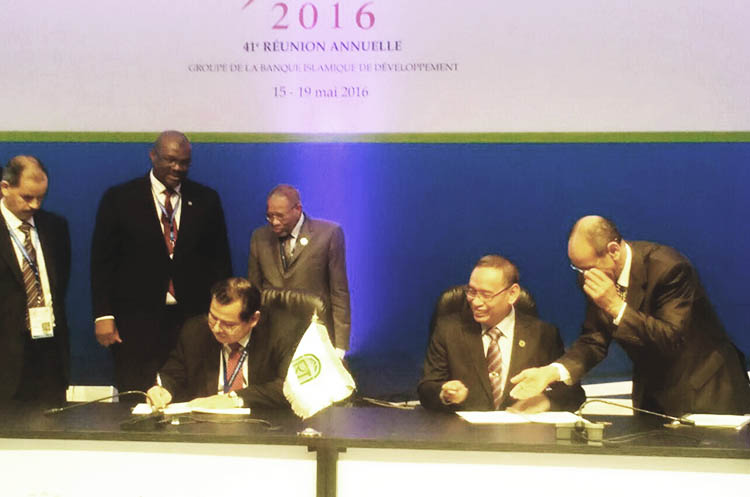 "From short-term funding, we hoped that there will be supports on training and research. It is applied around the world, for example, the closest is a workshop in Malaysia. Participants who become the speakers will be funded by IRTI. UNAIR is also like that. It is usually hold many workshops followed by many international people.
Related to infrastructure funding, UNAIR hoped that it will support the funding for the land and infrastructure. " In the future, we are going to push land expanding and infrastructure preparation. We hoped we were supported IDB," said by Prof. Nasih concluded his interview. (*)
Author : Defrina Sukma Satiti
Editor : Bambang Bes