UNAIR NEWS – Thousands of audiences crowded Airlangga Convention Center (ACC) to watch  Mata Najwa on Stage on Friday, April 15.  Besides coming from UNAIR, some of them were from other universities and public. Not only from Surabaya but also from out of town such as Gresik and Sidoarjo.
A great roar of applause broke out when Najwa Shihab headed stage. Some people at the side of the way, where the daughter of Quraish Shihab was walking, tried to make selfies with a background of the famous journalist and presenter.
"Lets's take picture together," said one of the students to his friend. They then took a selfie when Najwa was walking behind them. "Don't forget to upload directly at instagram and twitter, okay. Mention my name," said the other student.
"Being amid campus academicians has always been extraordinary. And as usual, Surabaya always has its distinct spirit," said Najwa stepping on stage. Again, it was welcomed by applauding noise of the audiences.
It was not the first for UNAIR to cooperate with Metro TV to hold Mata Najwa. It has been three times since it was firstly held there. First, it was in 2011. Second was in 2013 and the third was this year, 2016 in cooperation with East Java government and sponsored by Kopi Kapal Api.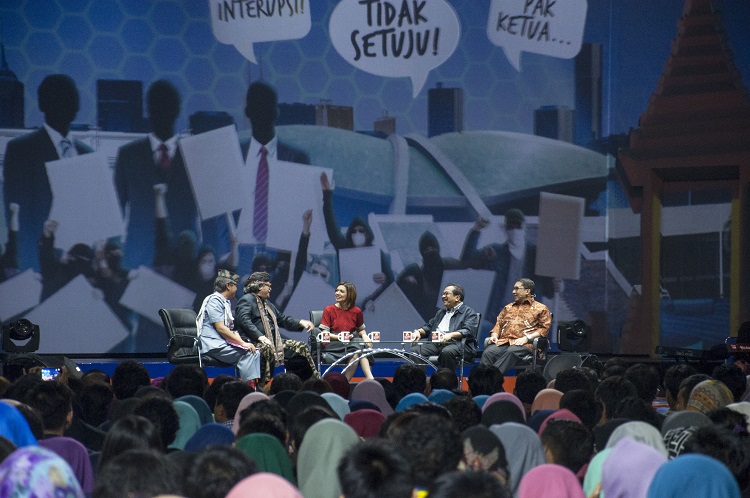 The theme was Lakon Politik Republik (Republic Political Acts). To support the show's festivity, the stars of TV program Sentilan Sentilun (Butet Kertaradjasa, Slamet Raharjo, Cak Lontong, and Akbar), East Java Governor Soekarwo, Deputy of the House of Representatives Fadli Zon and Kua Etnika music group shared the stage.
High officials of UNAIR also enjoyed the show. There were UNAIR Rector Prof. Dr. Moh. Nasih, SE., MT., Ak., CMA. Vice Rector I Prof. Djoko Santoso, dr., Ph.D., Sp.PD., K-GH., FINASIM, Vice Rector III Prof. Mochammad Amin Alamsjah, Ir., M.Si., Ph.D., Vice Rector IV Junaidi Khotib, S.Si., M.Kes., Ph.D. and the Head of Academic Senate Prof. Dr. Muhammad Amin, dr., Sp.PK(K).
In his opening speech, UNAIR Rector appreciated the extraordinary show as it always promotes positive moral values. "May this event can entertain and be useful to all students and audiences," said the professor from Faculty of Economics and Business. (*)
Author: Defrina Sukma S
Editor: Rio F. Rachman