UNAIR NEWS – Universitas Airlangga (UNAIR) cooperated with Metro TV, is ready to show "Mata Najwa On Stage". This talk show will be held in Airlangga Convention Center (ACC), UNAIR Campus C, Mulyorejo Surabaya on Friday from 13.00 to 17.00 local time. This time, Mata Najwa On Stage has "Lakon Politik Republik (Republic Political Acts)" as the theme.
Therefore, organizing team has already made preparations two days before its showing, presenting well-known public stars. Besides Najwa Shihab, the host of the show, there will be political figure, Fadli Zon (Gerindra), East Java Governor "Pakde" Soekarwo, "Sentilan Sentilun" stars, Slamet Rahardjo Djarot, Butet Kartaredjasa, and two comedians from Surabaya Cak Lontong and Akbar.
"There will be a performance of ethnic music by Kua Etnika lead by Jadug Ferianto. It will be rousing and epic," said Suko Widodo, Drs., M.Si., the Head of Information and Public Relations (PIH) UNAIR.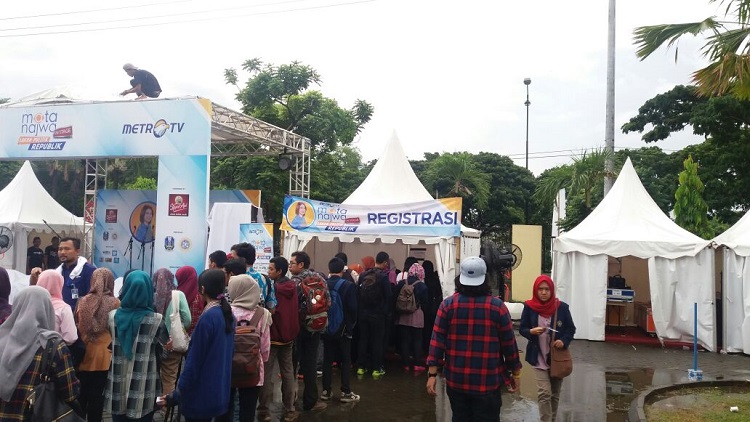 Audiences have been coming in since Friday morning. (Photo: Special)
When the rain let up this Friday morning, hundreds of audiences were coming in. They were audiences who have registered on line. They had their e-ticket from online registration to be exchanged for admission tickets. The gate of ACC building will be opened at 12.00 p.m. local time.
The stars of the program with Metro TV crews after praying at Asmaul Husna Mosque, Campus C Universitas Airlangga, will then gather in the Management building for pre-show formalities and then head for ACC, Mata Najwa On Stage Venue. Enjoy the show! (*)
Author : Bambang Bes