UNAIR NEWS – Being creative youth in this modern era is necessary, therefore Universitas Airlangga (UNAIR) and East Java government held an event on creative economy. The event was a part of Mata Najwa on Stage Surabaya to produce young creative entrepreneurs in all sectors.
On behalf of UNAIR Rector, the Head of Information and Public Relations (PIH), Drs. Suko Widodo, M.Si., said that in this creative economic era, great brains are needed.
"To practice creative economy, Surabaya is the right place to learn from as the people are gutsy," he said.
"Only in Surabaya, demons are eaten, that's why there's rawon setan (lit. satan's rawon- a black colored soup dish made with small beef cuts)," he said getting laugh of the audiences.
After the opening speech, inspiring speakers shared their experiences. The event held in Airlangga Convention Center (ACC) UNAIR on Thursday, April 14 was hosted by Merry Riana and Robert Harianto. During the event, the woman whose life story has been featured in a film said that there are three tips to be young successful entrepreneur, participation, open mind and actions.
"These three are combination of necessity in order to succeed, participation, open mind, and most importantly actions taken," she said.
After giving some motivations to warm the discussion, not long then Merry and Robert called three young entrepreneurs who achieve success in their own field of business. They are: Abimanyu Gusti, Chef Ken, and Ade Putra. Abimanyu is a model and a fashion businessman, chef Ken is the owner of Pipe and Barrel restaurant and was finalist of Master Chef Indonesia season 2, and Ade Putra is the owner of hajj and umrah souvenir center, Nabawi.
When they were asked about tips to success, all of them said that the key was in capital and knowledge. But they have their own way to direct their businesses.
"All branding should have x factor, which differs our products to others, so it is unique in a way," said Abimanyu.
Different from Abimanyu, Chef Ken emphasized experience factor to run the business.
"Other than capital and knowledge, experience is also important," he said.
Many people were surprised with Chef Ken's career choice as before in culinary business he was already a general manager of a company. Instead of continuing his well-paid career, he became a chef. In his opinion, that is the most meaningful experience.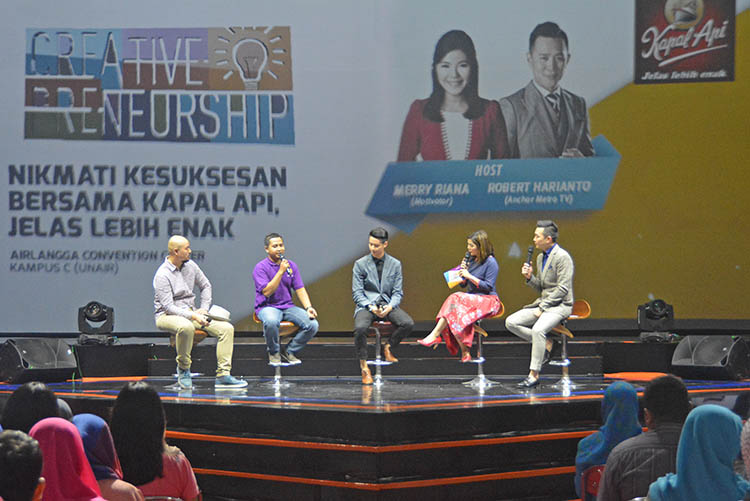 "Being a general manager indeed paid me well, but I also need time especially for my family. So after six years being one, with no holidays, I got stressed out and now I'm free. Freedom," he said.
Ade Putra, the owner of hajj and umrah souvenir center, said that unique idea will determine success.
"My idea was from the intention to help the pilgrims of hajj and umrah, so thet they can focus on their rituals, without worrying the souvenirs as they can buy them in my place," he said.
All three agreed that to be successful at youth demands sacrifices and hardwork. Most often, a businessman faces failures. But everyone can get over them and move forward to success.
Author: Nuri Hermawan dan Dilan Salsabila