UNAIR NEWS – From many occasions participating in biology competition/Olympiad, until one time joined Medical Science and Application Competition (Medspin) held by FK UNAIR, finally Nadhya Nur Fitri became a real doctor. She was even named as the best graduate of bachelor degree Faculty of Medicine Universitas Airlangga on graduation day last March
"It is difficult to explain why I want to be a doctor, as I wanted to be one since childhood," said Nadhya.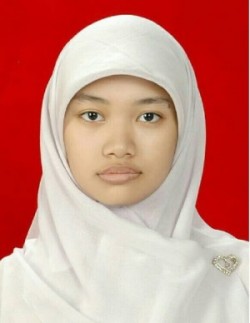 At first, when she was in SMP and SMA she often participated in competitions and Olympiad on Biology and in 2011 she participated in FK UNAIR prestigious event, Medspin. That was the moment where her dream to be a doctor even stronger. At that time, when the committee of Medspin held a simulation and asked each participant to act as doctors, including asking the health problems of the patients.
"We did an anamnesis (gathering information of the patient medical history), physical checking, laboratory checking, and interprested the findings. I was  attracted and being a doctor was like being a detective. The doctor has to be competent, care and compassionate," said the girl from Malang.
During college, Nadhya also made many achievements at national or international level such as when she and her team won the second place in PIMNAS XXVII in Universitas Deponegoro in 2014 for their proposal titled  "Edukasi dan Kontrol Gizi Seimbang untuk Anak Autis di Komunitas Anak Autis di Surabaya" in Student Creativity for Community Service Program (PKMM).
Then in February 2015, again with her team she won the second place in Siriraj International Medical Microbiology, Parasitology and Immunology Competition (SIMPIC) held by Siriraj Hospital, Mahidol University, Bangkok, Thailand. In the competition, Nadhya also got silver medal in individual category.
The graduate with GPA 3.73 in her thesis studied the connection between an infection cause by a bacterial thread hich was resistant to antibiotic, the bacteria which produce Extended-Spectrum Beta-Lactamase (ESBL). ESBL is an enzyme produced by certain Gram-Negative bacteria which can activate beta-lactam antibiotics.
"Recently, antibiotics were used irrationally, which of course very dangerous," said Nadhya who has not decided her next plan after the graduation, to be a practitioner, a researcher, or working in an  Non-Government Organization (NGO). All of those are interesting for her, therefore she was still considering all aspects while the field of study she wanted to study was microbiology or tropical and infection diseases.  (*)
Orin Focused on Disability
While Orin Annahriyah Syukria, even though she could not graduate as supposed to be, she was still named as the best bachelor graduate Faculty of Public Health(FKM), Universitas Airlangga. She finished her study in nine semesters with GPA 3.52. In her thesis she illustrated the condition of healthcare access from children with disability, especially in public health centers(puskesmas) in Surabaya.
"My thesis topic was about healthcare access from children with disability, as it is also a global problem and included in WHO (World Health Organization) concern. But the attention was very low," said Orin.
During college, Orin and her friends actively submit PKM proposals in 2014. She was also the head of PKMM team for "Pelatihan Pembuatan Nasoy (Nata de Soya) dari Whey (limbah tahu) di Desa Meduretno, Kecamatan Papar, Kabupaten Kediri, sebagai Salah Satu Upaya Penyelamatan Lingkungan." She was active in PKM and PKM-P events since 2011. She admitted that she had learned much from her experiences there.
Asked about her tips for being the best graduate, Orin said that she had only managed her time well. She tried to finish all her assignments and joined the right community. She also consulted with her parents anytime she had activities outside campus, so that they would understand and support her in her choice. (*)
Author: Sefya Hayu Istighfaricha & Binti Q. Masruroh.
Editor: Bambang Bes