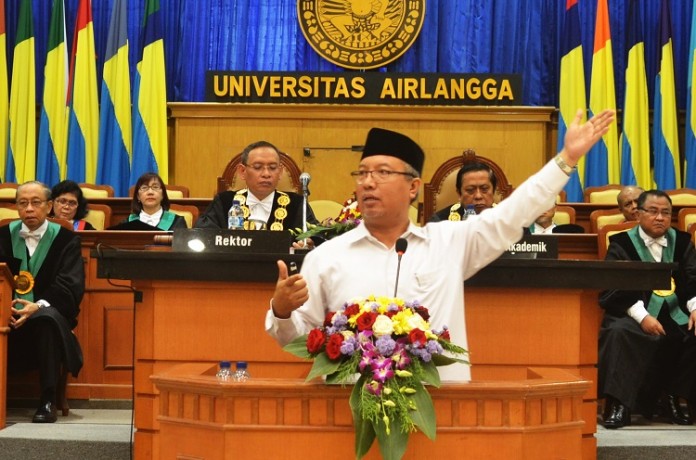 UNAIR NEWS – Special Staff of Ministry of Research, Technology and Higher Education (Kemenristek Dikti) Drs. Abdul Wahid Maktub on Thursday, February 11 presented scientific oration during the ceremony of confirming UNAIR new postgraduate students of doctoral, master, specialist and profession degree for even semester 2015/2016.
Titled Revolusi Mental untuk Sumber Daya Manusia Handal di Era Global, the oration was to motivate the new postgraduate students in their studies in UNAIR.
In the oration, Maktub stated that currently there are competitions which make us face new challenges in all fields of study. Knowledge is the key of success, so studying is not merely to study but also for the sake and blessings of all.
"Universities will provide positive atmosphere to develop students' potentials," Maktub said.
In the occasion, the special staff of the ministry also encouraged UNAIR to make connections and be in synergy with the society and other institutes, so it can inspire other universities.
Interviewed after the ceremony, Maktub explained that the greatest challenge in Indonesian Education is the balance of academic skill and vocational skill. So the students do not only have the knowledge but also have the competence.
"All this time, public only focuses on pursuing symbolic things such as certificates and title. But they forget other aspects where there is responsibility in a title. All this time, people write and do researches merely for formality, to get titles. They stop thinking further," said the Indonesian Ambassador for Qatar in 2003.
To meet the challenges, he affirmed that currently there is a connection between researches, technology and higher education, to get a correlation between the basic research and applied research. The connection was to correlate between researches and real demands.
"The orientation should be changed on how intellectuals provide answers to the demands. For example, researches in infrastructures, food, energy, injustice, economy. All should be directed there, so there will be continuation," Maktub said.
Maktub also stated that current research results are separated. There should be a new response. First, on the quality, second on the access, third is on the relevance, fourth is the competitiveness. Those are competencies to provide answers on the society demands. (*)
Author: Binti Quryatul Masruroh
Editor: Bambang Bes